Finding Self-Fulfillment in Giving
Have you ever experienced self-fulfillment through helping those in need? I'm curious because I think I have finally understood what Gandhi meant when he said: "The best way to find yourself is to lose yourself in the service of others."
Entendí que esta frase no se trata simplemente de dar por dar. We are talking about finding personal fulfillment poniendo nuestro granito de arena. Don't think you need to dedicate your entire life to charity to make a significant impact in our world.
How to find Self-Fulfillment in Giving
Hey Gorgeous Mamacita,
In this post I wanted to share something close to my heart—my journey this week in finding that self-fulfillment I was talking about by helping others.
Although I was born in Venezuela, my parents were born in Ecuador. Most of my family lives in Ecuador still and the devastating damages caused by the recent earthquakes there have really hit close to home.
Gracias a Dios, todos mis seres queridos están bien, pero las imágenes de las víctimas, la destrucción del país, las historias contadas por mis familiares de la falta de abastecimiento y necesidad, me dejaron con el corazón en mil pedazos. 💔 Después de soltar muchas lágrimas, decidí utilizar mi energía de manera útil y recaudar donaciones de amigos y familiares para llevarlas a Ecuador ya que tengo un viaje programado para allá la semana que viene.
Por esa razón aquí comparto 3 maneras sencillas de cómo puedes encontrar una verdadera satisfacción personal sirviendo a los demás.
¡Uno! Find a cause you feel really passionate about and donate some of your time.
Puedes incorporar tu conocimiento, carrera profesional o algo que te apasiona. This way you enrich your life by doing what you love and at the same time you enrich the lives of others by sharing your talents and knowledge.
¡Dos! Donate belongings you are not using.
Existe una gran satisfacción al saber que algo que tu no usabas está siendo usado por alguien que realmente lo necesitaba.
¡Tres! If your time is very limited, remember there is also value in donating money.
As a contributor, you become part of a much bigger cause and that's also amazing! Hay un poder grande en pequeñas donaciones. ¿Qué pasa cuando ese dólar se convierte en millones de ayudas? Tenemos millones de dólares. And with that we can build schools, orphanages, hospitals, etc.
Hoy te invito a que te conectes con el servicio de ayudar a los demás y de esta manera te consigas a ti misma.
I can't undo the earthquake, but I can make a positive contribution in attempt to help those in need. By taking action I have also been able to shift my feelings of devastation and helplessness into hope and empowerment. This inner fulfillment has in turn transformed into a more profound sense of purpose.
Me encantaría saber de ti. Tell me if you've ever experienced self-fulfillment in charity? ¿En cuál área te gustaría contribuir? Remember we all have something special and valuable to share with the world.
Comparte tus pensamientos en los comentarios abajo. I believe we are all connected and you might just inspire someone by sharing your story and journey.
If you like this post, share it con otras mamacitas para que ellas también se inspiren and Subscribe to our YouTube channel. We'll be uploading new webisodes every Wednesday.
Don't be a mama con drama. Let's be Mamas Con Ganas!
Gracias por leer y compartir con tanto cariño y ánimo.
Con mucho amor,
Wendy la #WorkingMamacita
---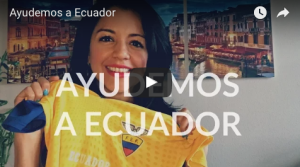 P.S. Si quieres ayudarme a recolectar fondos para ayudar a las víctimas de Ecuador, puedes hacerlo a través de Unicef por este link. ¡Un millón de Gracias! O como dicen en Ecuador, Dios le pague.  🙏🏽