What is Mamas Con Ganas?
¿Qué es Mamas Con Ganas?
You might be asking yourself: What exactly is Mamas Con Ganas? Here's the low-down!
Hey mamacita,  We wanted to do this video as a trailer to our upcoming webisodes on YouTube. It shows snippets of what's to come: inspiración, motivación y diversión. Aquí se habla Spanglish!
We talk about the 3 ways to turn negative energy into positive energy, we offer a business bite for the week and we talk about how to overcome that which may be paralyzing your life: fear. Plus you'll see Valentina interview some other mamacitas while having fun and being silly.
We're really excited about launching Mamas Con Ganas. It is our labor love for you, sexy mama.
Sometimes society wants to make us think that women are catty, "frienemies" and that we are somehow working against one another. Here, at Mamas Con Ganas, we completely disagree with that thought process. When we as women stick together and lift each other up we are unstoppable and totally fierce. And there you have it. The number one reason we're doing Mamas Con Ganas.
Reason number 2? Well, one day we had a revelation. What's the use of learning something if you don't share it? And God knows, there have been a lot of people who have helped us along this journey called life. So we guess you could say we are paying it forward and passing on some valuable lessons that we've learnt along the way.
Y la razón numero tres por la cual creamos Mamas Con Ganas is this. Tienen que haber otras Latinas como nosotras—Latinas curiosas que saben que hay algo mas allá de la farándula y lo exterior, Latinas que quieren una vida balanceada, divertida, pero también espiritual y que buscan contenido de buena energía y desean ser parte de una comunidad de mujeres que se apoyan. Estas Latinas tienen sueños que quieren realizar y están orgullosas de sus raíces. Y finalmente, Latinas que viven una doble vida en el sentido que balancean su cultura Latina con la cultura Americana en la cual están sumergidas de día a día. Y que además, balancean todos los otros aspectos de su vida.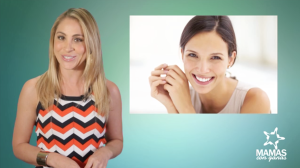 We wear a million hats. En el trabajo o cuando estudiamos, we wear the "working mamacita" hat. With our partners, we turn on the "sexy mama." When we work out, I guess you could say we are the "sweaty mamas." We also run errands and cook and some of us even juggle the role of mothers or "mamás" (here we'll use the word with an accent). So yeah, it can get overwhelming to say the least.
So yeah, we all have super busy lives and we're all plugged into social media and blablablablabla. And we know there are millions if not billions of places you could find entertainment so if you are reading this right now all we can say is thank you and we'll try our very best to bring you positive content that leaves you feeling a little happier and a little more inspired. Perhaps we can even have aha moments together. Oh yeah, you guessed it: we're huge Oprah fans. Adoramos esa mujer. She has taught us that inspiration can be contagious. La inspiración y la felicidad son contagiosas. Así que cuidado! (Wink)
Te gusto este episodio? Compártelo mamacita! Y cuéntanos, is there a topic you'd like us to address? Ven and share your thoughts with us.
Agradeceríamos muchísimo if you joined our network of Mamacitas on Instagram
Conéctate con nosotras y suscríbete a nuestro canal de YouTube. Búscanos en Twitter y social media @mamasconganas
Y recuerda:

Don't be a mama con drama. Let's be Mamas Con Ganas! 

Hasta pronto. Con mucho cariño,
Valentina y Wendy
Note: Comparte tus ideas, experiencias, preguntas y o comentarios sobre este episodio below. Share your tips mamacita but please no spammy links.